This store requires javascript to be enabled for some features to work correctly.
ABOUT US
IF YOU AND YOUR FRIENDS LIKE GOOD BARBECUE, THEN WE LIKE YOU!
At age 23, Corbin and his babe Meghan (wife now!), launched Corbin's Q at the La Jolla Farmer's Market in September 2013. Many fires and markets later, Corbin's Q now does bbq catering across the county for private and corporate events as well as weddings. The fun doesn't stop there as he built a permanent location that launched in November 2017: 6548 El Cajon Blvd. San Diego CA 92115.
Get hungry and come check us out. Kids and dogs are invited as well! Corbin grew up on a registered Angus cattle ranch, so he has always been around the bbq. He even enjoyed showing cattle from age 7 to 19 through his local 4-H at the County Fair, where he won a few champions. Being raised on the farm taught him a few quality skills such as welding. Today Corbin has welded together every bbq trailer that comprises the fleet, location, and a few at private residences around San Diego.
The dream was always to build a humble location for people to gather with their friends and family. Somewhere central in the county for our awesome market patrons to be able to converge if they miss a market. A place where no matter the weather the folks can come on in for the same great flavor.
Since day one our mission has never altered. Mission Statement: With the greatest focus on pride and passion, Corbin's Q provides the best quality service to match the highest quality food we can create. Quality makes quality and we fuel it with our pride and passion.
The only thing that has changed with our different spot/s is the amount of time we have spent around the grill. According to calculations in July 2020 Corbin personally has been a part of almost countless BBQs, this has him at an estimated 15000 hours of Barbecue Time! We hope you enjoy it and hope to see you soon!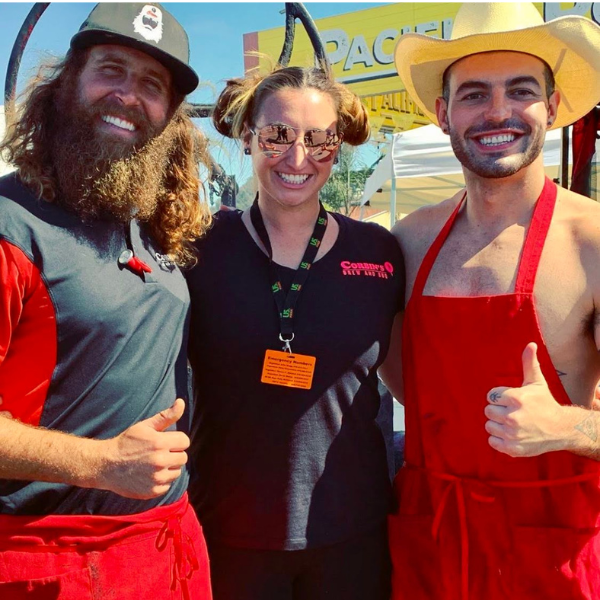 We've Come Along Way from
• Our first Farmers Markets in September 2013.
• Moving into a permanent restaurant location in November 2017.
• Winning BBQ Meat and Pitmaster awards at the Turf and Surf BBQ State Championships at Del Mar, August 2019.
• Getting blessed by the Mayor with our very own Corbin's Q day that we celebrate every November 16th.